Prevention is key when it comes to mental health problems. While therapy and coaching can help you do more and live a happier and healthier life, taking steps to prevent these problems from occurring in the first place is always ideal. There are many things you can do to create, sustain and protect your mental well-being, and by incorporating some or all of these into your life, you can help keep your mind healthy and strong.
The big problem is that people do not take precautions when it comes to their mental health. They either do not seek help or wait till the problems become too big before seeking help. This leads to a lot of pain and suffering that was avoidable, if only they reached out for help earlier. This can over time lead to mental health problems, which can be very difficult to deal with. That is why we recommend that both self-help and professional help needs to be a part of our mental health and well-being tool kit.

Nitin Shah – CEO, ICHARS
Recommended Steps to prevent mental health problems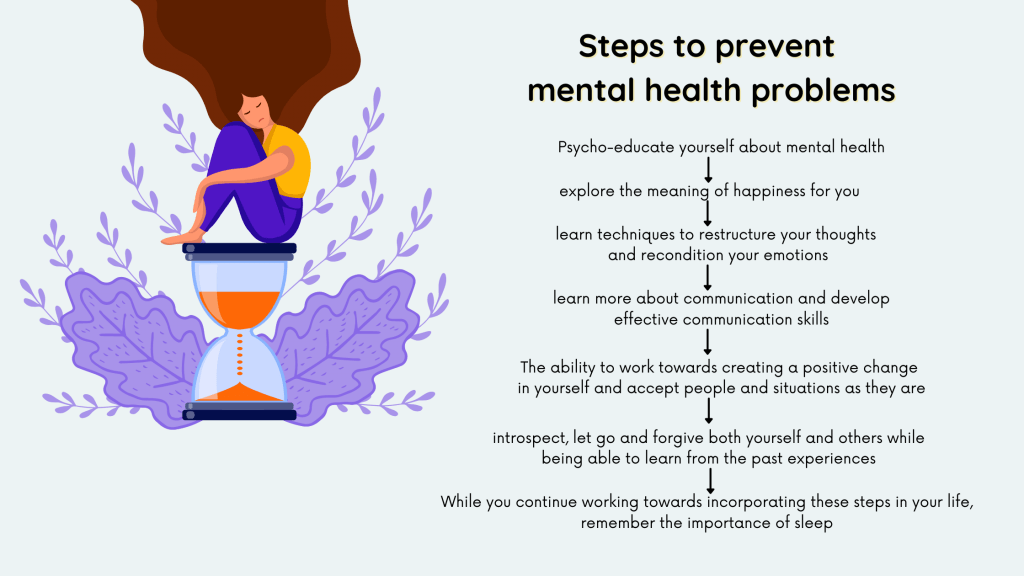 Here is a list of things that we recommend you to do as a part of your day to day life
Psycho-educate yourself about mental health and mental well-being. Understand the role of physical exercises, diet and other lifestyle factors in creating a state of mental well-being. There are many courses, books and videos on youtube that can help you with this. We will soon be creating a list of recommended free resources that can help you in your journey towards mental well-being. 
A part of Mental health is about helping us create and sustain happier living, so the next step is to explore the meaning of happiness for you. You can check out this video if you want to get a deeper understanding of what is happiness and the steps that you can take towards living a happier, fuller life.
Next understand the role of thoughts and emotions in your life and learn techniques to restructure your thoughts and recondition your emotions. This will also help you manage your stress and be in charge of your behaviours and habits. There are also regular group sessions that we organise as a part of the VisitMHP initiative. Please feel free to join the same.
One of the hallmarks of mental health and well being is how effectively you can understand others and help others understand your self. Communication is one of the most important aspects of this understanding. Learning more about people, why they do what they do and developing the skills to communicate with self and others is the next step in your journey towards sustainable mental well being. If you want to learn more about communication and develop effective communication skills, check out this video.
The ability to work towards creating a positive change in yourself and accept people and situations as they are go a long way in creating and sustaining mental well-being. Understanding the meaning of love, acceptance and how you can work towards imbibing these in your life is the next step.
The next step in your journey towards sustainable mental well-being is to introspect, let go and forgive both yourself and others while being able to learn from the past experiences so that they do not repeat in future. Develop the skills and the attitude to do so. If you are not sure how to develop this skill and attitude, check out this video
While you continue working towards incorporating these steps in your life, remember the importance of sleep. If you wish to learn strategies to manage your sleep better you can check out this video.
VisitMHP for preventing Mental Health Problems
We have shared some of the steps above, this is by no means a complete list but we are sure that doing learning these and applying them in your life will help you prevent mental health problems to a large extent. If you are not sure about any of the steps or are not able to incorporate them into your life, remember a mental health practitioner can not only help you in your recovery from the disorder but can also help you apply each of these steps in your life so that you can prevent reaching the stage of the disorder.